The pleasure
of feeling at home
Far from the tumult and the crowds,
your apartment offers you a unique atmosphere.
Its sober, chic, timeless Parisian spirit welcomes you with style,
in a delicate harmony of lines and tones.
A subtly balanced ambiance which, each day,
reveals a little more of its charm.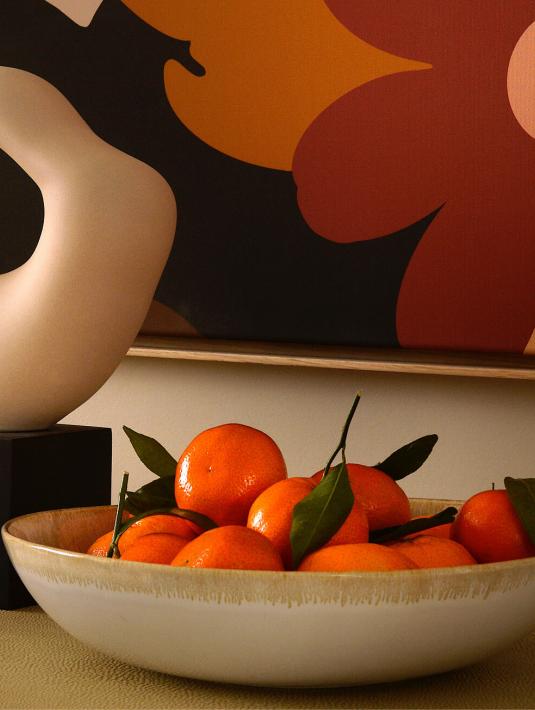 Ready to live in
If beauty is the beginning of happiness, daily pleasure also requires an irreproachable quality of life. This is why the amenities of your apartment have been the subject of as much care as its design.
In addition to the usual equipment, you are provided with very high-speed internet access, TVs with a wide selection of international channels, a large fully equipped kitchen, a washing machine, a bathroom for each bedroom...
For your peace of mind, the entire building has the security of remote surveillance,
24/7.
Black Door Marbeuf offers 35 apartments ranging from studios to five-room accommodation, with one to three bedrooms, ranging in size from 40 to 165m², fully furnished, decorated and equipped. They are ready to live in, without any administrative procedures required on your part.
Come discover yours.

Choose your apartment
3 rooms with Eiffel Tower view
Description
155m2
5 rooms
3 bedrooms
12m² balcony with view of the Eiffel Tower
Master bed of 180cm, beds of 160cm in the other bedrooms
Dressing room and 'walk-in closet' in the master bedroom
Fully furnished and equipped kitchen with crockery, kitchen utensils, dishwasher, oven and microwave, coffee machine
Plan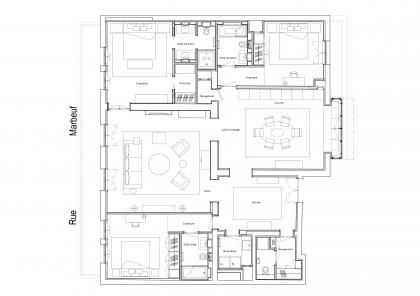 Classic 3 bedroom apartment
Description
165m2
5 rooms
3 bedrooms
Master bed of 180cm, beds of 160cm in the other bedrooms
Dressing room and 'walk-in closet' in the master bedroom
Fully furnished and equipped kitchen with crockery, kitchen utensils, dishwasher, oven and microwave, coffee machine
TV with international channel package in the living room and master bedroom
Plan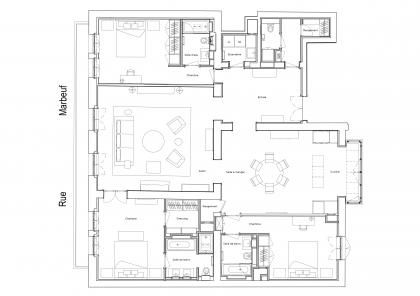 Prestige 2 bedroom apartment
Description
120m2
3 rooms
2 bedrooms
160cm size beds in all rooms
Dressing room and 'walk-in closet' in the master bedroom
Fully furnished and equipped kitchen with crockery, kitchen utensils, dishwasher, oven and microwave, coffee machine
TV with international channel package in the living room and master bedroom
Plan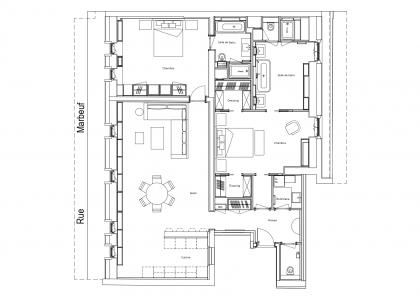 Classic 2 bedroom apartment
Description
70m2
3 rooms
2 bedrooms
160cm size beds in all rooms
Dressing room and 'walk-in closet' in the master bedroom
Fully furnished and equipped kitchen with crockery, kitchen utensils, dishwasher, oven and microwave, coffee machine
TV with international channel package in the living room and master bedroom
Plan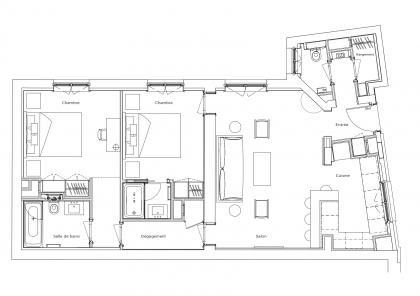 160cm bed
Description
40m2
2 rooms
1 bedrooms
160cm bed
Dressing
Fully furnished and equipped kitchen with crockery, kitchen utensils, dishwasher, oven and microwave, coffee machine
TV with international channel package
Plan